Colorado C&D Materials
Construction and demolition ("C&D") materials make up 25% of the total solid waste generated in the State of Colorado (approximately 2 million tons in 2021). Nationwide, the EPA estimated 600 million tons of C&D generated in 2018, twice as much as generated MSW. Common components of this material stream include concrete, asphalt, lumber, metal, gypsum wallboard, roofing products, carpet and others and are generated when structures are newly built, renovated or demolished. Unlike peer states considered to be environmental leaders, Colorado does not have statewide policies that encourage C&D recovery and only has limited data that would provide a clearer picture of our whole system. 
Resource Links
Construction and Demolition Debris: Material-Specific Data | US EPA - READ
Boulder County Construction and Demolition Infrastructure Study - READ
CDPHE Construction and Demolition Stakeholder Survey Results - READ
Recycle Colorado C&D End Market Development Report - READ
Construction and Demolition Materials Ranked By Value - READ
Asbestos Guidelines for Renovation and Demolition - READ
Current markets exist for concrete, asphalt and metal but gaps still exist and it is assumed that the majority of other recoverable materials are landfilled without sufficient infrastructure or recycling markets in the state.
Recycle Colorado's C&D Council stakeholder group and C&D End Market Development Report were launched in 2019 to begin building a circular economy for C&D in Colorado. At the same time, a focus on these materials as the next step beyond traditional household recycling and composting and as a significant part of climate and zero waste goals began taking hold organically across the Front Range and in our mountain communities. 
Hosted by the C&D Council, this page serves as a knowledge base to support the growth of the C&D industry.
Council Meetings for 2023
February 15th, 2:30-4:00pm
August 29th, 2:30-4:00pm
November 15th, 2:30-4:00pm
Upcoming 

2024 Council Meetings

February 21st, 2:30-4:00pm

May 15th, 2:30-4:00pm

August 21st, 2:30-4:00pm

November 20th, 2:30-4:00pm
C&D Policy Toolkit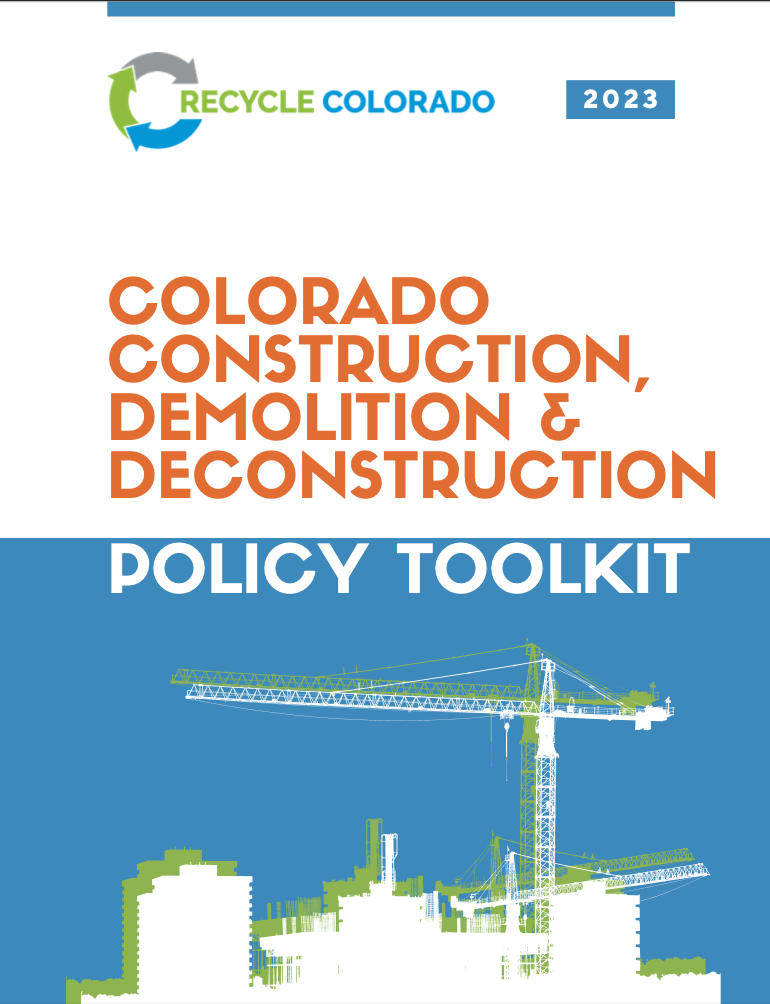 The reuse and recycling of building materials is a proven industry gaining momentum across Colorado and the US. Diverting C&D materials makes significant impacts to local waste diversion, landfill air space, carbon capture, and creating economic resiliency in our local communities. Recycle Colorado is thrilled to present this toolkit as a guide to public entities providing resources, tips, and tools as they pursue sustainable built environment diversion goals. The toolkit is the result of a collaborative effort across multiple organizations, agencies, and individuals dedicated to developing diversion markets and pushing for better building practices and solutions. View and download the toolkit by clicking on the image to the left. 
If you have nay questions or would like to make additions to the toolkit, please contact Emily Freeman ([email protected]), C&D Council Chair or Ally Byzewski ([email protected]), Recycle Colorado Staff.
Current Infrastructure - Local Government and Regional Resources
Boulder County
Boulder - Denver Metro Area
City of Fort Collins - C&D Recycling Resources list - most service providers also operate outside the City
Pitkin County - The Solid Waste Center diverts C&D materials and provides a list of accepted items on their website
Summit County Resource Allocation Park - The SCRAP accepts concrete, asphalt, scrap metal, clean lumber
Eagle County Solid Waste & Recycling - Concrete, clean lumber, metal
Yampa Valley Construction Salvage - Facebook Group
Private Sector and Recycle Colorado Members
Colorado C&D News
C&D Council Information
C&D Policy 5-Year Vision (2022-2027) - VIEW DOCUMENT
C&D waste generators statewide have more incentives to divert their materials from the landfill through local policies or state-level legislation.

Through its C&D Council and other advocacy, Recycle Colorado has supported the development of local policies that drive investment in processing infrastructure and new end market solutions. Emphasis is placed on promoting deconstruction over traditional demolition as a means of preserving value and better quality materials at end-of-life.

A centralized recycling authority has developed greater knowledge and data reporting of C&D waste generation, material flows, recovery rates, and infrastructure needs in Colorado to support appropriate C&D policy interventions.

State government leads by example with C&D recovery goals, data collection, and other strategies to reduce waste on state construction projects.