Happy Colorado Recycles Week and America Recycles Day!
Colorado Recycles week is November 14-18 and America Recycles Day is November 15th this year.
During Colorado Recycles Week, we are taking to LinkedIn, Facebook and Twitter to highlight the success of our members. Follow us on social media to be part of the celebration!

If your organization has an accomplishment you would like us to post on social media, please email us!
Thank you to our members for the great work across the state and nation you are doing to improve Recycling!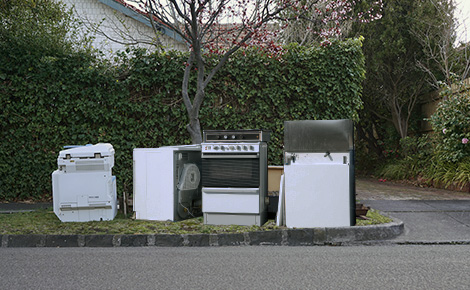 City of Golden
The City of Golden collects appliances and mattresses from residents at the curb to reduce vehicle miles traveled. Thanks to their partners, MSJS Recycling and Springback Colorado, Golden has diverted more than 50,000 lbs of these items from the landfill in 2022.
PaintCare
To date, PaintCare has collected more than 60 million gallons of paint across all state programs. In fact, 5.2 million gallons of this total was collected in Colorado. Utilizing a network of nearly 200 year-round drop-off sites, the Colorado PaintCare program is making paint recycling more convenient in the state and keeping paint out of the waste stream.
PaintCare encourages households and businesses to responsibly dispose of their unwanted, leftover paint by visiting a PaintCare drop-off site. For more information, please visit www.paintcare.org/states/colorado/.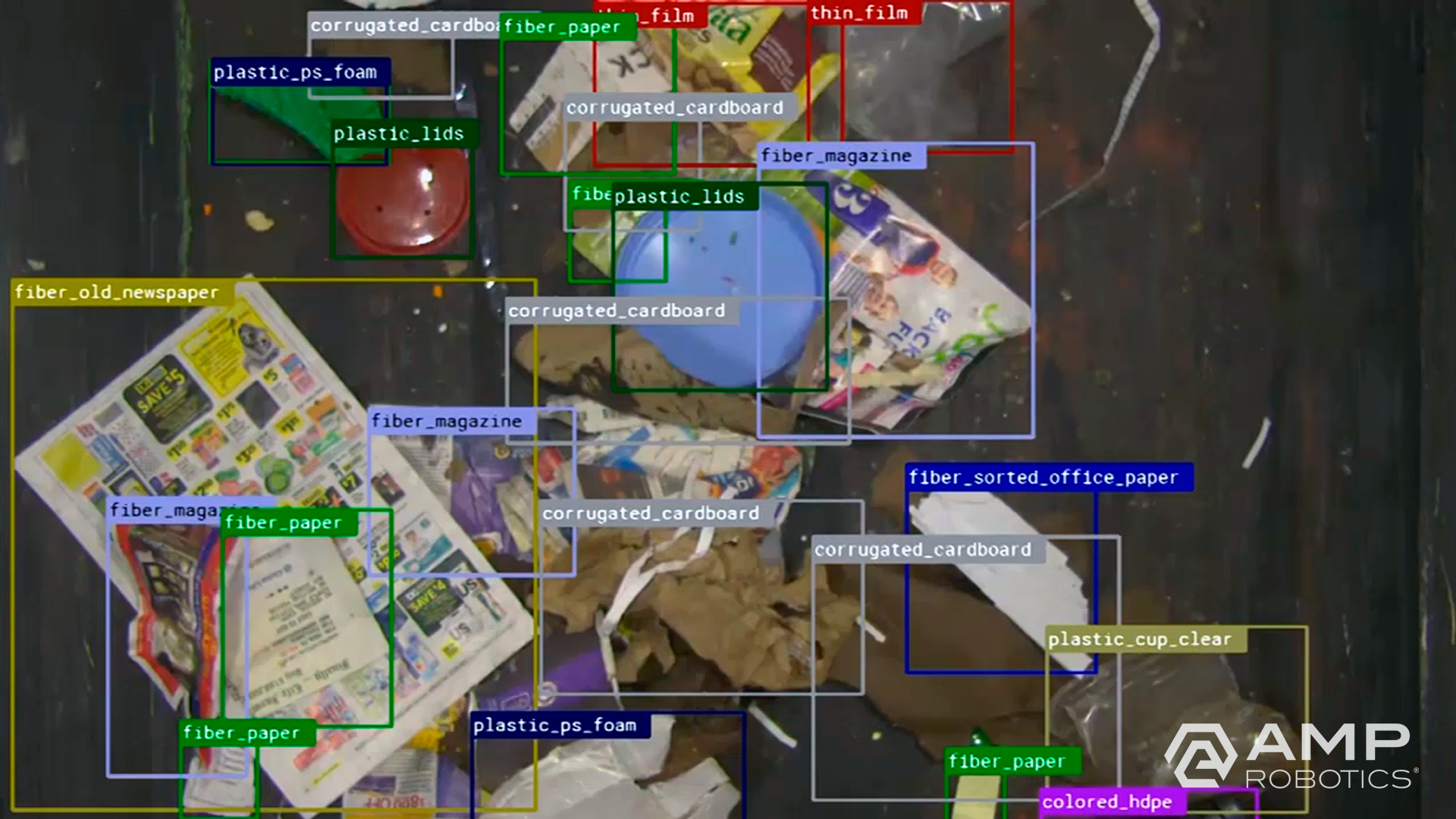 AMP Robitcs
AMP's latest funding of $91 million helped to modernize and scale waste infrastructure to continue improving the economics and efficiency of recycling. Read more!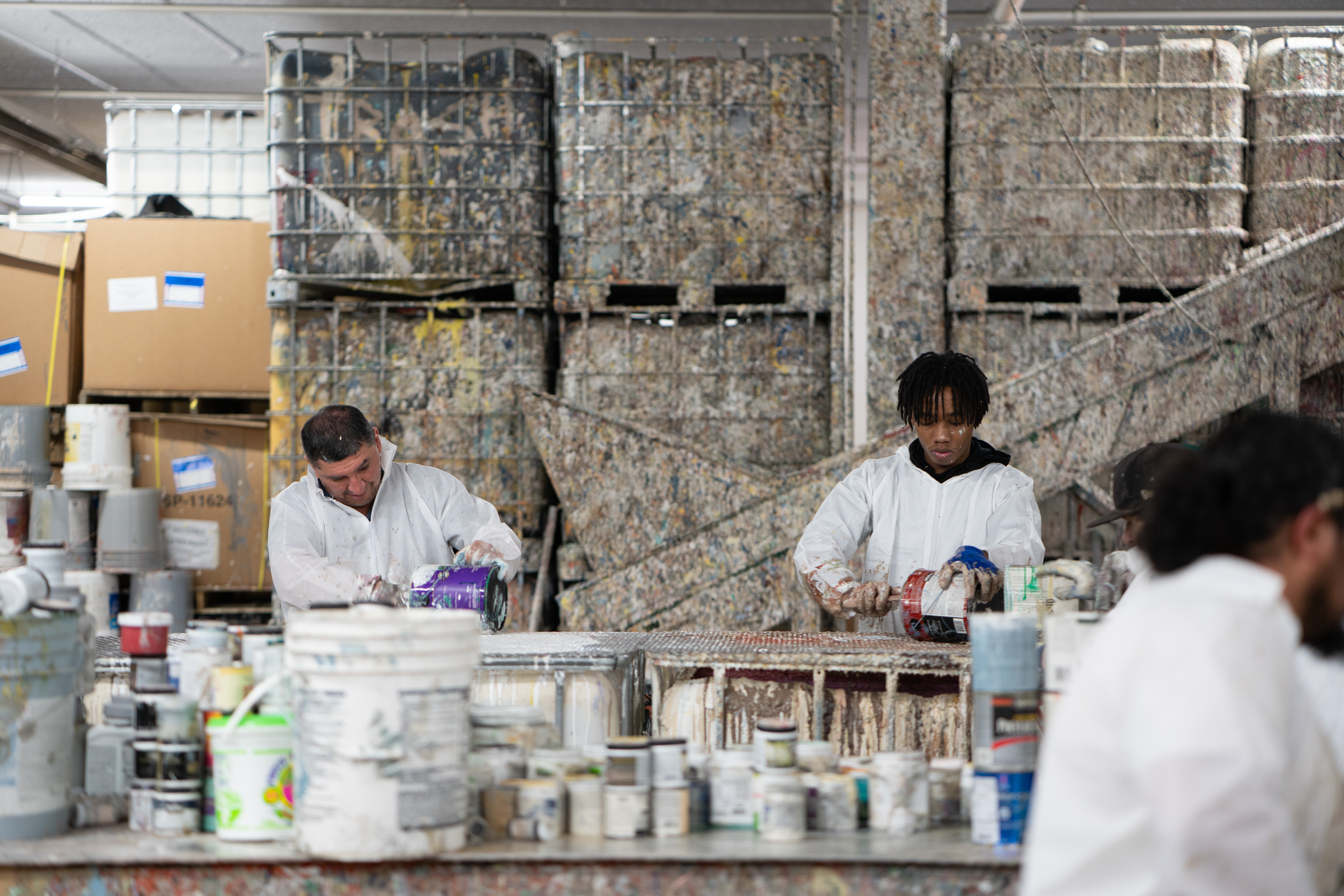 Greensheen Paint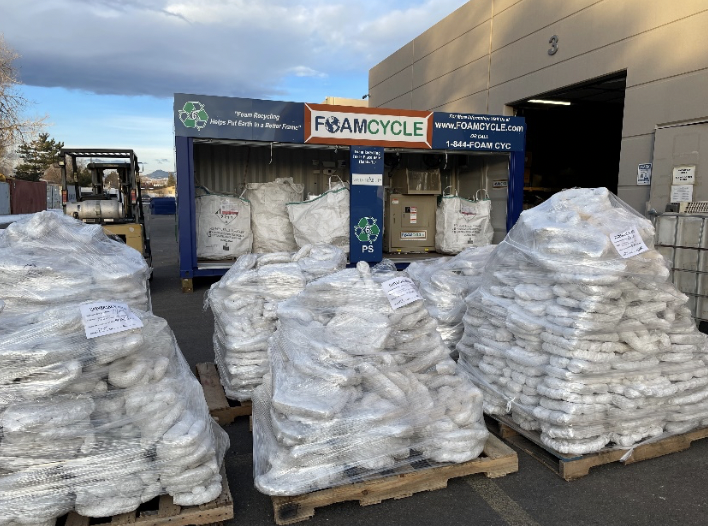 Foam Cycle & SustainAbility
What happens when two members of Recycle Colorado decide to partner in an effort to tackle a hard-to-recycle material that is found in every home, business and school... results! SustainAbility's recycling drop-off center based in the Denver Metro community of Arvada successfully recycled many different items, yet diverting packaging foam (aka Styrofoam or Expanded Polystyrene) from the solid waste stream was being done at a great "cost" to both the agency, and the environment. An introduction from NextCycle Colorado brought in a unique company, Foam Cycle, to highlight it's plug and play system of processing and repurposing packaging waste foam where it is being collected, a gamechanger! 
With an RREO grant, determination and a vision, SustainAbility's diverse work force has collected over 18,000 pounds (9 tons) of EPS and avoided trucking at least 2,300 miles by recycling the foam at their Center, with a bonus $2,760 selling the valuable material to a local market.
Visit SustainAbility to see how you can contribute to the circular economy of your community. Contact Foam Cycle to learn how public-private partnerships can make an impact in providing access to recycling a valuable and reusable material, all by recycling foam one-piece-at-a-time.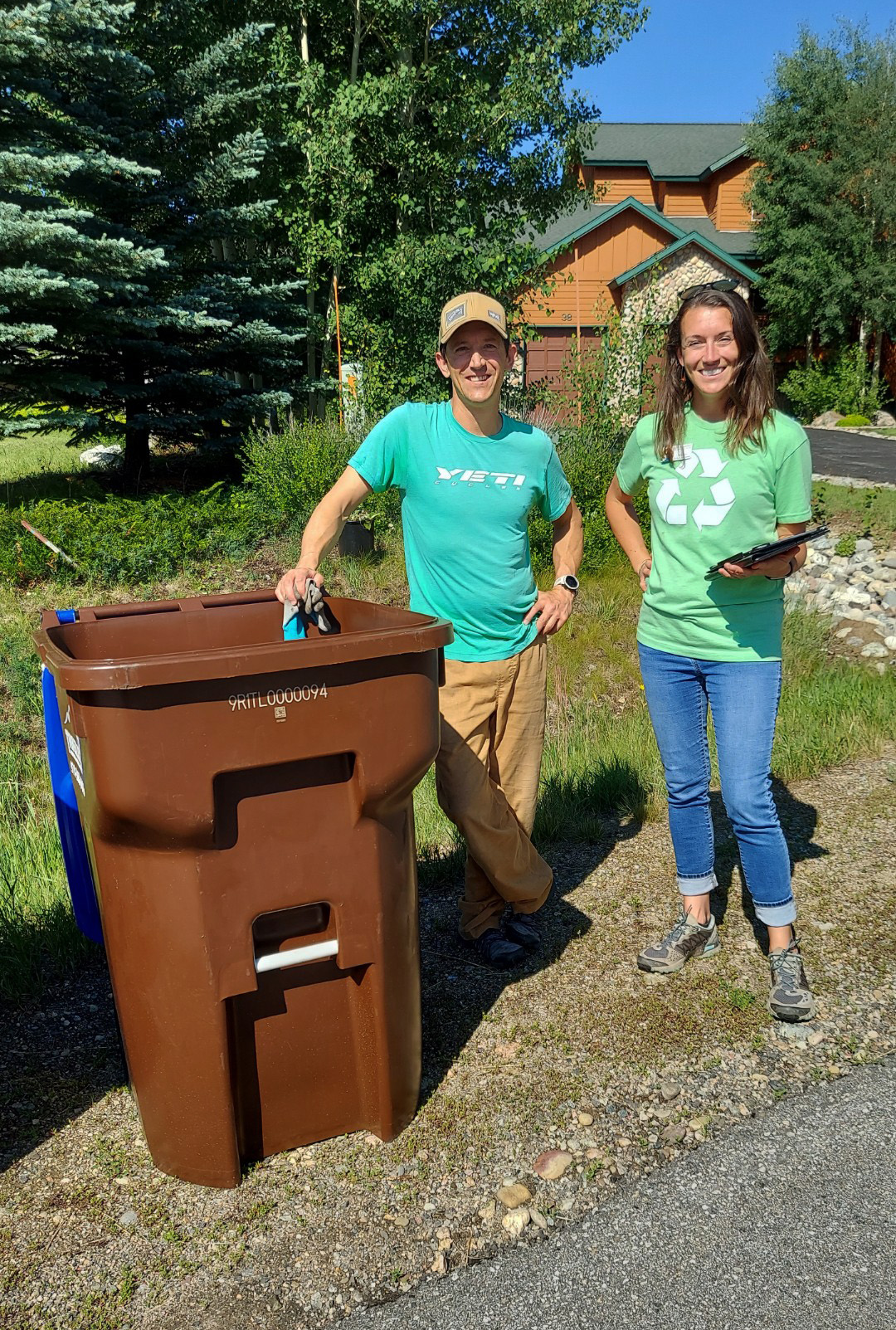 High Country Conservation Center
The towns of Breckenridge and Frisco passed Pay as You Throw & Universal Recycling.

Rocky's Recyclers reached 266 students and teachers this year.

246,000 lbs of residential food waste was diverted from the landfill this year with the help of the Free Residential Food Scrap Program.

Over 35 Summit County businesses are composting food waste.

921 recycling bins were scanned for contamination this year.

572 households recycled hazardous waste, e-waste, prescription medications, and clothing in September during the Annual HHW Recycling Event.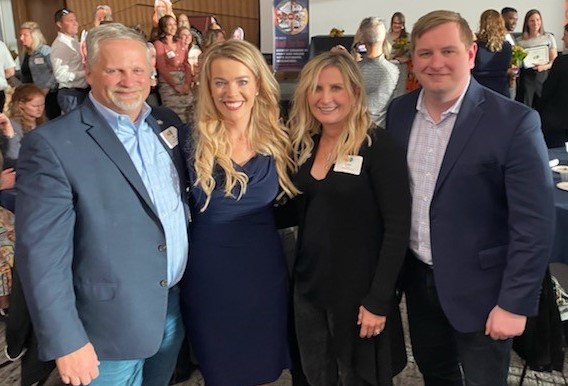 Republic Services Fort Collins
Holli McElwee Biz West's 40 Under 40 Honoree: Congratulations to Republic Services very own @Holli McElwee for receiving BizWest's 40 Under Forty Award this week. Holli is the Municipal Sales Manager in Northern Colorado and Southern Wyoming, working with governmental affairs to help shape policy related to environmental sustainability in the form of recycling and waste reduction, while staying connected to regional climate action goals. She attends local, county, regional, and state meetings to ensure Republic Services supports the communities we serve. Holli, always takes time to be a mentor to employees. She demonstrates heart-led leadership with a "people first, kindness mentality". She serves on several local and regional boards and enjoys volunteering in the community. 
After a busy day making a difference to so many in her career, in her personal life she is a wife and a mom to three amazing young girls! She raises cattle and practices sustainable grazing management with her beef cattle and horses in Larimer County, our True Local Cowgirl! She is pictured here with Jim Hutchinson, Northwest Area Municipal Sales Director, Northern Colorado's Executive Administrative Assistant, Laine Burrud, and General Manager, Tom Maxwell.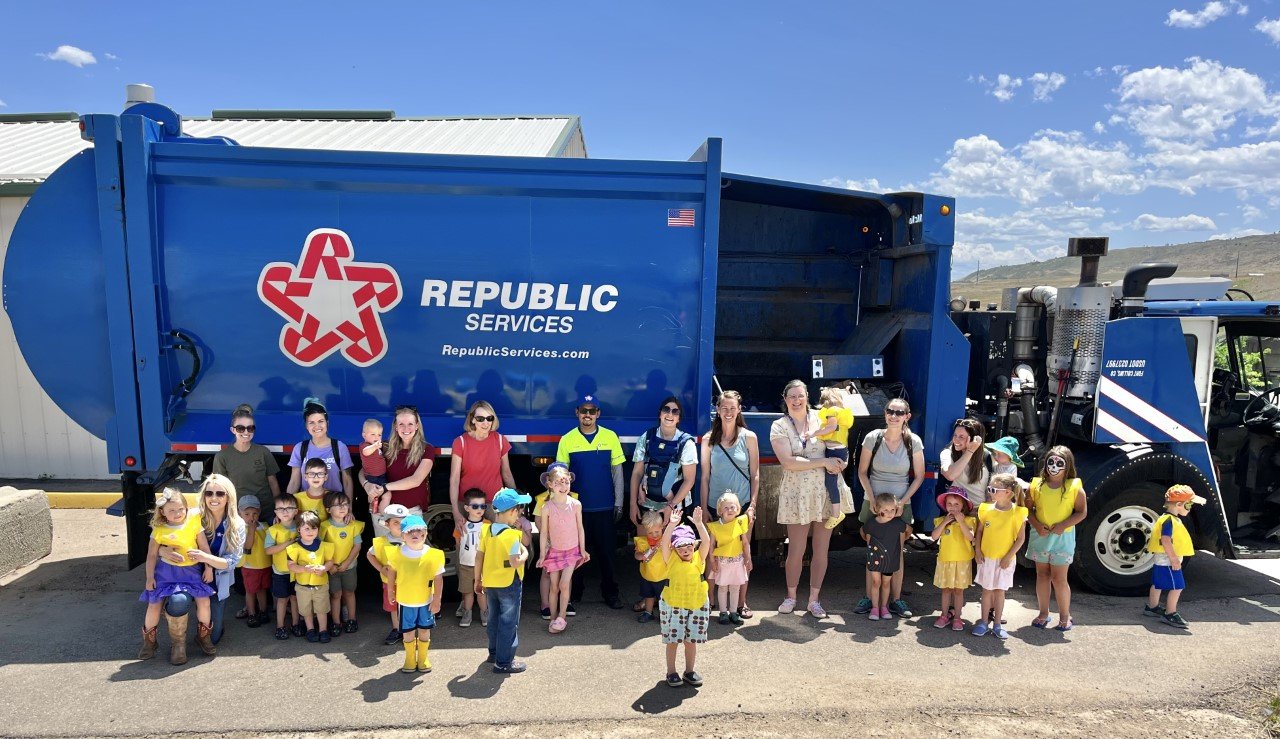 Republic Services' Touch-a-Truck at the Larimer County Garbage Garage's Education Center - We partnered with Larimer County Solid Waste Department on this fun community event! This outreach was by RSVP and had a waiting list by the time the event occurred on May 18, 2022. Young attendees and their parents had the opportunity to meet our recycle truck driver, have their questions answered, and climb into the big blue recycle truck. The event concluded with a self-guided tour into the Larimer County Garbage Garage and plenty of treats outdoors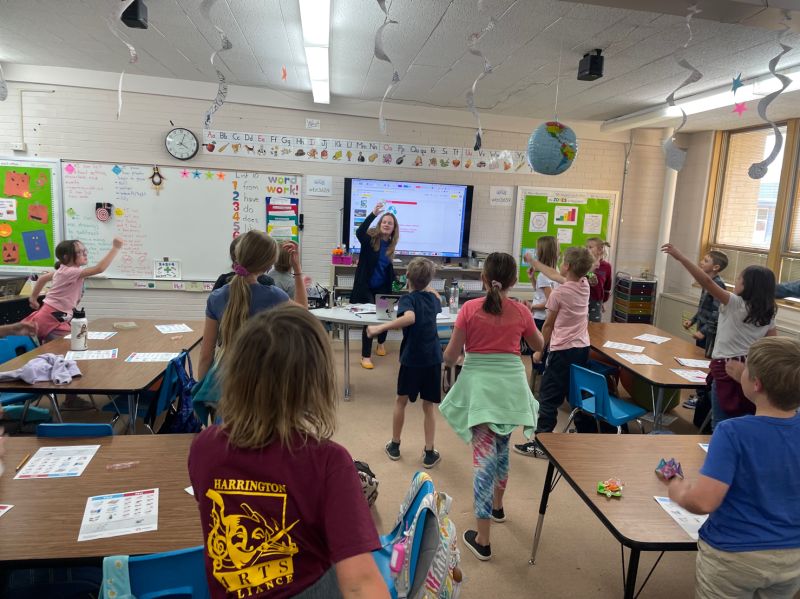 Over a dozen Annual Presentations at School Districts - Our Municipal Team provides education throughout the year. A variety of lesson plans are available in person or online, including waste diversion, recycling simplified, a deep dive into landfills, and more. Each lesson is grade appropriate, designed to meet Science-based curriculum standards, and makes learning fun. Print resources are provided in both English and Spanish. We also love to be the  go to for Assemblies!! Kids love to sing and dance along, learning the how to recycle!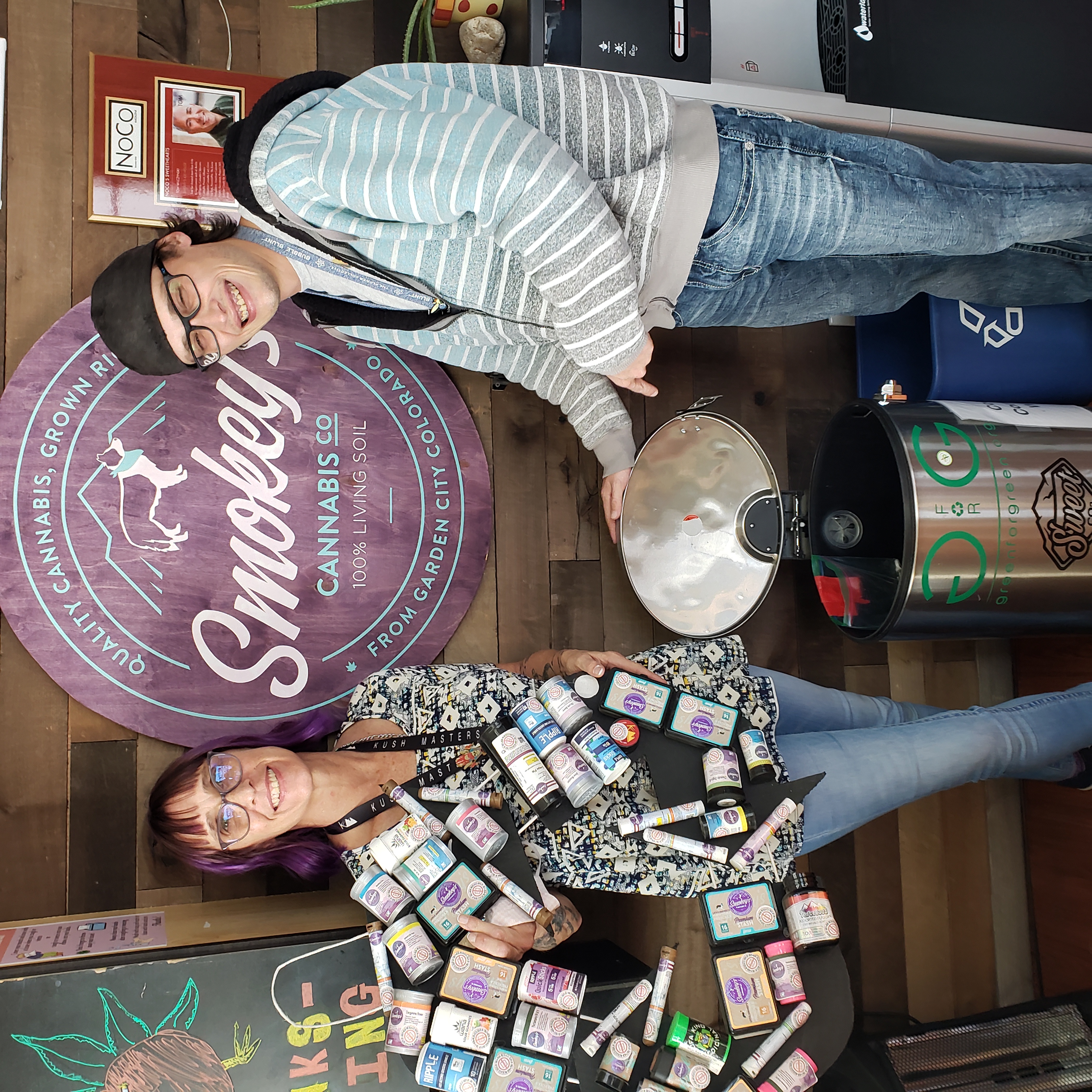 Smokey's Cannabis Co.
Michelle and Ryan showcase one aspect of Smokey's Cannabis Co's sustainability program.  Smokey's partners with Green For Green, where customers can earn rewards by bringing back empty containers.  Then Green For Green is able to sanitize and prepare them to be used time and time again.  Everybody wins!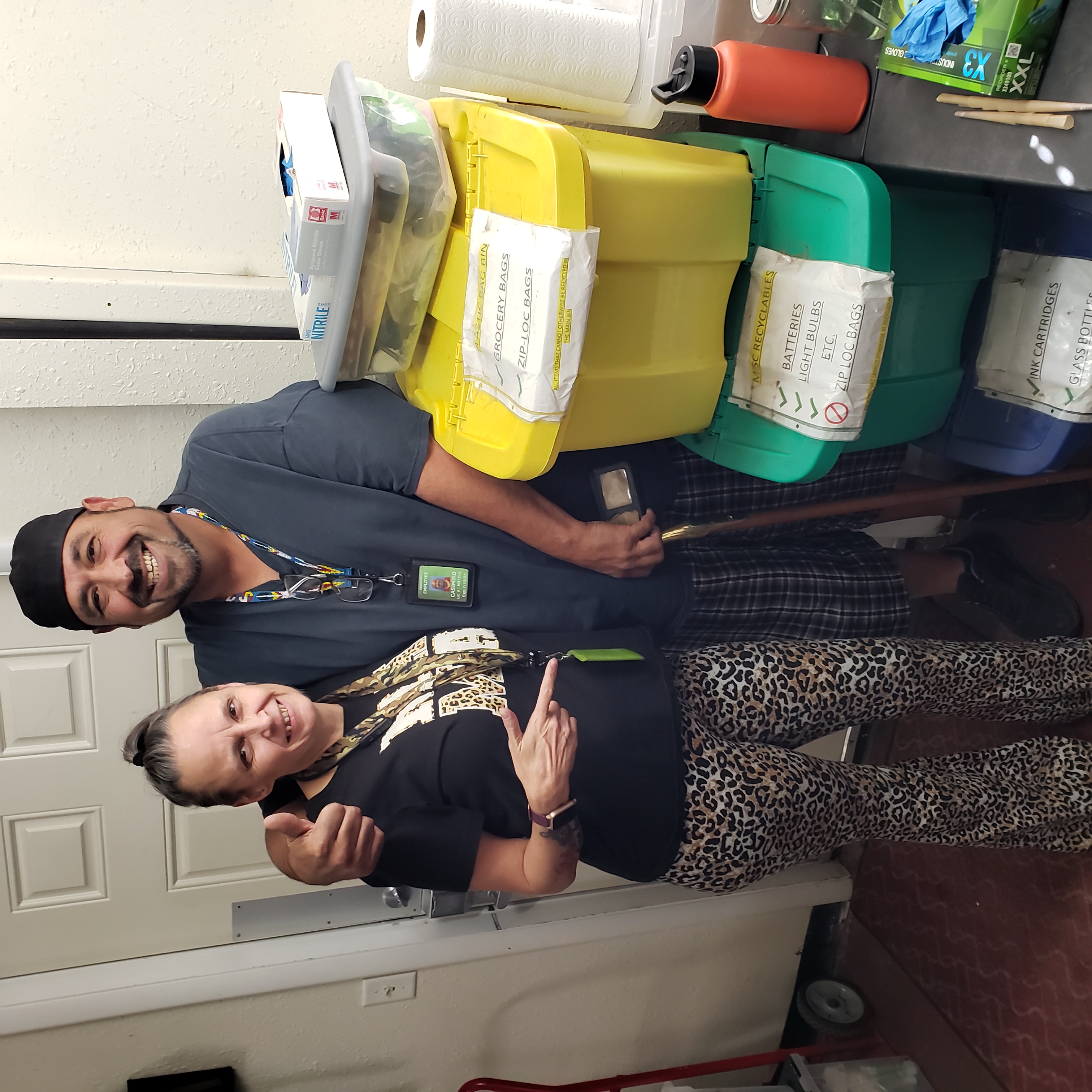 Kristine and Casey stand beside storage bins utilized for collecting recyclable items that can't be picked up by single-stream recycling.  When someone from Smokey's plans to drive near a location that offers recycling for any of these hard-to-recycle items, they just take a load right along with them.  See how easy it can be to recycle even more!
Glass to Glass Denver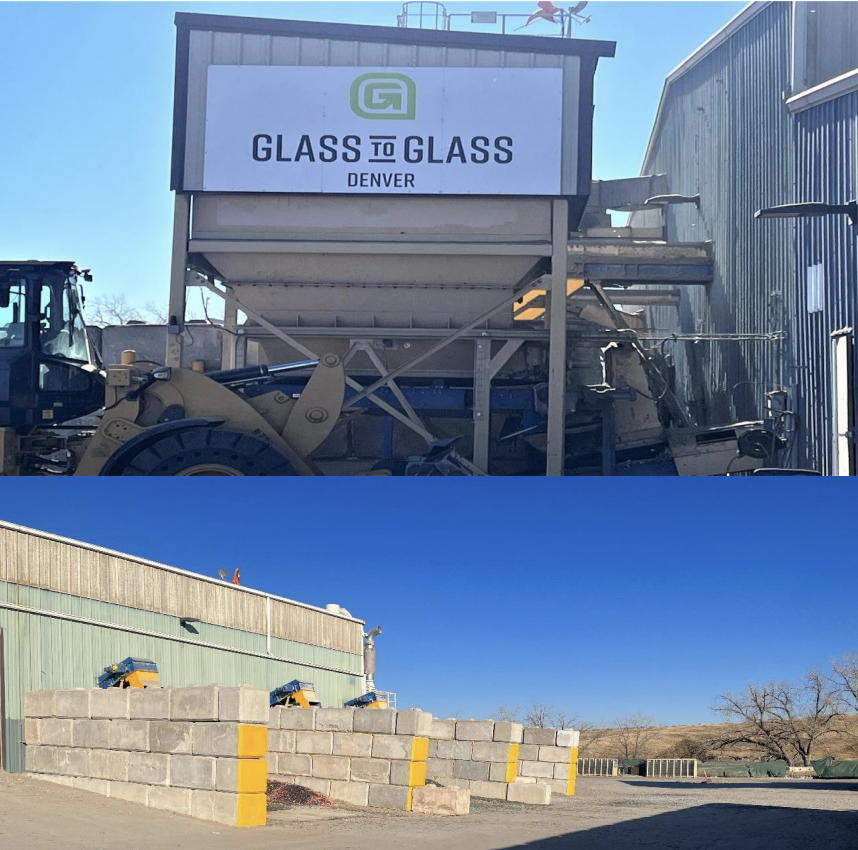 Glass to Glass Denver is Colorado's new and improved location for glass collection, processing, and output. Glass to Glass is investing in your sustainable future. The installation of new chutes and upgraded processing equipment is generating a higher quality glass stream. Our glass output for September and October were record 2022 months yielding 7000 tons of furnace ready glass. Newly installed bunkers provide over 200 cubic yards of storage space for transport ready clean glass. Concrete driveway improvements throughout our 5-acre facility now allow for easy accessibility.
Eco-Cycle
Eco-Cycle, Recycle Colorado, and a broad coalition of national and state businesses, environmental advocates, residents, and over 65 Colorado communities successfully championed House Bill 22-1355: Producer Responsibility for Recycling Program. The bill passed the Colorado Legislature on May 11, 2022, making Colorado the first state in the country to create a fully producer-funded and operated statewide recycling system for all consumer-facing packaging and printed paper. Once implemented, this policy will provide free recycling service to all Colorado residents, reduce unnecessary packaging, and build more resilient domestic supply chains to ease supply chain disruptions for Colorado manufacturers. The bill was drafted by Eco-Cycle Policy Director Kate Bailey and sponsored by Rep. Lisa Cutter, Sen. Kevin Priola, and Sen. Julie Gonzales.
Eco-Cycle completed two studies for CDPHE: the Front Range Waste Diversion Baseline Assessment and Greater Colorado Waste Diversion Baseline Assessment. The reports and accompanying interactive maps provide a look at access to recycling and composting programs and other key metrics to establish a baseline assessment for our diversion system. Both reports show trends in diversion, identify what programs communities have in place, and provide suggestions of programs and policies to advance diversion for users to reference in grant applications, public education, and decision making.
Eco-Cycle released our 6th State of Recycling and Composting in Colorado Report on American Recycles Day this year with their partner CoPIRG. The report talks about news and trends in recycling and composting, highlighting municipalities that are doing things well. It also sets the stage for their policy priorities for the coming year.  
You can download the report from our website at ecocycle.org/sorc-report. Key highlights from the report this year include:
Colorado's Recycling rate is still 16%, half the national average.
Passage of HB22-1355: Producer Responsibility for Recycling Packaging and Paper is landmark legislation that will increase our recycling rates by providing free recycling access to all Coloradans, no matter where they live, starting in 2026.
HB22-1159: Waste Diversion and Circular Economy Development Center will establish a center to support and recruit businesses that use recycled materials to make new products, establishing much-needed end markets and local jobs.  
The Colorado Department of Public Health and Environment (CDPHE) made significant strides to address wasted food, yard debris, manure, and other organic wastes through their first Statewide Organics Management Plan, which analyzes and makes recommendations to fill gaps in composting infrastructure and use.  
CDPHE commissioned research that created baseline assessments of recycling and organics diversion access to better measure and guide improved diversion efforts.  
Highlights of progress many communities across Colorado have made toward adding or expanding recycling and/or organics diversion programs.  
Eco-Cycle also had two great media events highlighting some innovative recycling and composting programs around the state and to explain the benefits of HB22-1355 - Producer Responsibility for Recycling Packaging and Paper. We had inspiring panelists on both events including the Governor and First Gentleman as well as Recycle Colorado's Executive Director Liz Chapman, Board Treasurer Monique DiGiorgio, and Board Member Jessica Lally. You can see recordings of both events on Eco-Cycle's YouTube channel.
Link for recording of 11am event with the highlights from the report: https://youtu.be/WSyHHUlTXRs
Link for recording of 12:30pm event with the Governor, First Gentleman, Liz, Monique, and Jessica and discussion of Producer Responsibility: https://youtu.be/R8WlyjxIYbg